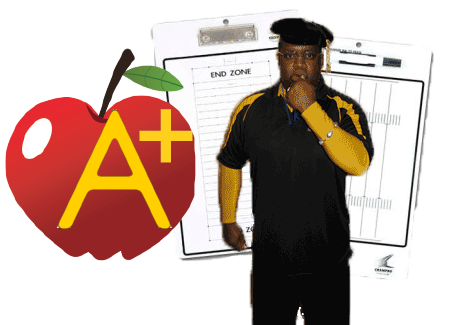 Dr. Lathardus Goggins II is the Academic Coach
My professional experiences have focused on preparing students for college; helping students access college; and working with students to achieve academic success once in college. 
As a professional educator, I have worked as an Admissions Counselor, Academic Advisor, Director of College for Kids, directed an Upward Bound program, an Associate Dean, Assistant Professor, and Middle School Math and Science Teacher.
Over my 20+ years as an Educator, I have received numerous recognitions for my dedication, quality work, and a "roll-up-your-sleeves" work ethic. Click the [more button] for more information about me [

].
I look forward to working and planning with you towards your student's success.
Services:
Game Plan - This is the full premium service for students in the 8th through 10th grades. Coach Goggins will partner with you and your student to develop an educational plan to successfully prepare for college and gain admission to a "best fit" college or university.
Services include grade level assessment, customized class plan through high school graduation, college preparation checklist, SAT and ACT preparation, career and personality exploration, arranging college visitations, scholarship and financial aid application assistance, and guidance through the college application process. Fee - $4000.00
Junior "Huddle-Up" - This premium service is for students in the 11th grade. Coach Goggins will assess your student and develop an educational plan to successfully gain admission to a "best fit" college or university.
Services include grade level assessment, college preparation checklist, SAT and ACT preparation, arranging college visitations, scholarship and financial aid application assistance, and guidance through the college application process. Fee - $2000.00
Senior Blitz - This service is for students in the 12th grade. Coach Goggins will assist in identifying the "best fit" college or university, provide guidance through the college application process. Fee - $1500.00
Rescue 911 - Player Down - This is a rescue service for students who have gotten off track and was either put on probation or dismissed from college. Coach Goggins will work with you to develop an emergency academic plan to get you or your student back into college. Fee - $2000.00